Some people like to hate on PSL and all things fall and pumpkin-y… BUT, making your own pumpkin recipes at home provide a great source of Vitamin A, fiber, and contributes to our daily vegetable count! Pumpkins are also a great source of antioxidants which help keep our cells healthy and the Vitamin A, Vitamin C, Vitamin E, Iron, and Folate helps keep our immune system in tip-top shape. A lot of these same vitamins are also thought to protect your skin and eyesight from the affects of aging. Potassium, Vitamin C, and fiber content in pumpkin also benefit heart health. It is true that a lot of fall inspired pumpkin recipes can be packed with sugar, but there are ways to satisfy your pumpkin sweet tooth at home in a healthier and cheaper way that take no time at all!
This recipe is satisfying and can be easily customized to fit your dietary needs.
Lactose Intolerant/Vegan: Sub Fat-Free milk with your favorite dairy free alternative! 15-oz of Fat-Free milk is 145 calories. 15-oz of 2% milk is 213 calories (so add 17 calories and 2.5g fat per serving). 15-oz of Sugar-free Oat milk is 112.5 calories (so subtract 8 calories and add 1.5g fat per serving). 15-oz of Unsweetened Almond milk is 56 calories (so subtract 22 calories and add 1.5g fat per serving).
Whipped Cream: If you like whipped cream on top of your desserts, I suggest getting Fat-Free Reddi-Wip because it is a low calorie but still satisfying way to get that sweet creamy topping!
Pumpkin Pie Spice: This spice blend can be expensive and subbed for Chai spice if your grocery store carries it. You can also make your own spice blend (2 tsp cinnamon, 1 tsp ginger, 1/2 tsp nutmeg, 1/2 tsp allspice, 1/4 tsp cloves = ~3 tsp pumpkin pie spice).
Chocolate, anyone?!: Using fat-free sugar-free chocolate pudding instead of vanilla adds 20 calories total (5 per serving).
Pumpkin Pudding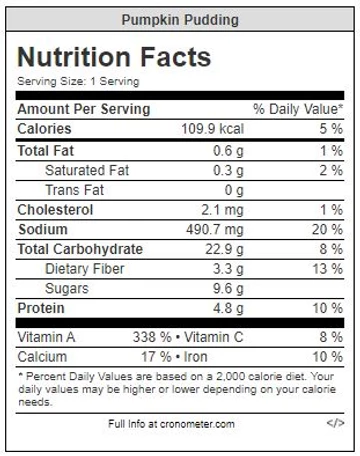 Ready in 20 min
Serves 4 ppl
110 calories Total per serving
Ingredients
● 15 oz can of Pumpkin Puree
● 15 oz Fat-Free Milk (or milk substitute of your choice)
● 1.34 oz Instant Fat-Free Sugar-Free Vanilla Pudding
● 1 tsp – 1 TBSP Pumpkin Pie Spice
● 4 TBSP Fat-Free Reddi-Wip
Preparation: Dessert
1. Empty one 15 oz can of pumpkin into a mixing bowl. Fill the same can with your milk (or dairy substitute of your choice)* and whisk together.
2. Add packet of vanilla pudding and how ever much spice your heart desires. Whisk together again.
3. Refrigerate for ~20 minutes to let the pudding set.
4. Top with 4 TBSP of Reddi-Wip if desired and enjoy!
Budget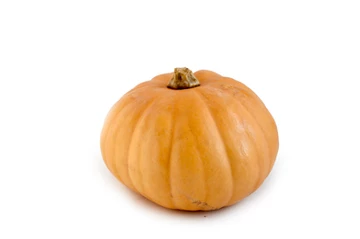 $2.25 Total
$0.56 Total per Serving
All items are SNAP eligible
Nutrition
0.5 Lean Protein
0 Whole Grain
1 Vegetables
0 Fruit
1 Dairy
Storage
Dessert will last in Fridge 4-5 days