Fall is here! And while it may not be cold outside (yet), we can still start embracing soup season! This butternut squash soup is seriously the best and new staple in my fall cooking arsenal. My boyfriend always raves about his mothers Butternut Squash Soup that she makes for Thanksgiving dinner, and she told me her secret: Curry Powder. It might sound weird, but it adds a depth of flavor that brings this soup to a whole other level. I like pairing this soup with a nice protein filled kale salad to balance out the fact that the soup itself is carb heavy (it is squash after all). Wow yourself, your family, and your friends with this delicious Butternut Squash Soup and Fall Kale Salad!
Butternut Squash Soup
Ready in 90 min
Serves 8 ppl
250 calories Total per serving
$15.29 Total
$1.91 Total per Serving
All items are SNAP eligible
Ingredients
● 2 Butternut Squash
● 1 Sweet Potato
● 2 Shallots
● 1 head of Garlic
● 1 can of Lite Coconut Milk
● 32 oz Low-Sodium Vegetable Broth
● 2 TBSP Olive Oil
● 2 tsp Salt
● 1 tsp Black Pepper
● ½ tsp Nutmeg
● ¼ tsp Ginger
● ¼ tsp Cinnamon
● ½ tsp Thyme
● ¼ tsp Sage
● 1 tsp Curry Powder
Preparation
1. Carefully cut your butternut squash lengthwise in half, scoop out the seeds, and place on a lined baking sheet with your sweet potato. * Bake at 375F for about 1 hour until tender.
2. Add 2 TBSP Olive Oil to a deep soup/stock pot and add 2 finely chopped shallots. Let sweat until they become slightly translucent. Chop your head of garlic (about 10 cloves) and add to pot along with all the spices.
3. Once shallot and garlic are cooked and spices are toasted, add coconut milk and make sure to get any stuck bits off the bottom of the pot.
4. Add contents of your pot to a blender and blend until smooth. Add back to the pot and bring to a simmer.
5. Once finished baking. Add roasted butternut squash and sweet potato in pieces to your blender with vegetable broth in increments according to the size of your blender. Then, add your blended squash mixture to the pot and stir over medium heat.
6. Once everything is blended,+ bring to a simmer and serve!
Tips
● *No need to peel any of these now. Once finished baking and cooling slightly, the skins will peel off easily.
● +For a completely smooth soup, blend everything evenly. For some chunks in the soup, add some small pieces directly to the pot without adding to the blender.
● Optionally, roast some pepitas with spices included in the soup and a spritz of oil in a shallow frying pan to garnish your soup!
● This recipe has no added sugar but does have 11.8 g of natural sugars from the butternut squash, sweet potatoes, and shallots.
● Fiber! With 13.5 g of fiber per serving, this soup has half of your daily recommended fiber intake!
● This soup is delicious on its own, however, only has about 5 g of protein per serving. So, serve with a high protein salad or other source of protein to round out this meal.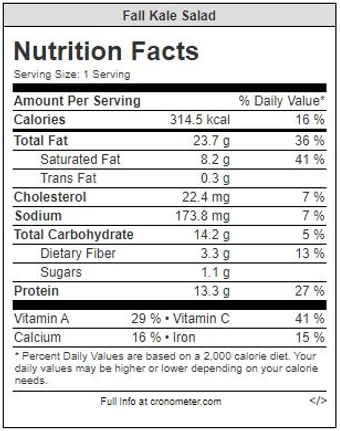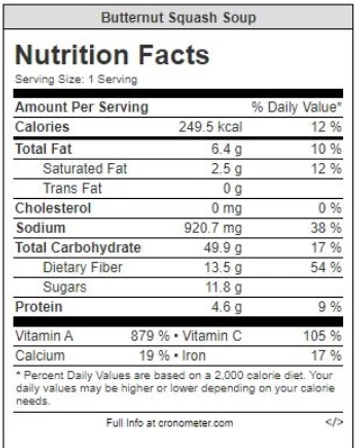 Fall Kale Salad
Ready in 30 min
Serves 4 ppl
315 calories Total per serving
$7.73 Total
$1.93 Total per Serving
All items are SNAP eligible
Ingredients
● 3-4 cups Chopped/Torn Kale
● 8 TBSP Pepitas
● 4 oz Goat Cheese (Honey or any flavor you love)
● 2 TBSP Olive Oil
● Zest and Juice of 1 Lemon
● 1 cup cooked Quinoa
● Salt and Pepper to taste
Preparation
1. Wash, dry, and tear apart kale leaves. * Add to a large salad bowl.
2. Zest and juice one lemon into a blender. Add Olive oil, salt, and pepper to the blender and emulsify dressing. Add over kale, toss, and let sit for 20-30 minutes.
3. Add 1 cup cooked quinoa, 4 oz of your favorite goat cheese (I used honey), and pepitas.
4. Toss and enjoy on its own or pair with Soup for a well-balanced meal.
5. For added flavor, toast your pepitas in a shallow frying pan with spices and a light spritz of oil.
Tips
● *Kale stems can be very "woody" and fibrous. Discard large stems.
● Emulsifying your salad dressing will allow for it to stick better to all your ingredients and prevent it from pooling at the bottom of the bowl (often leading to excess dressing consumption).
● Allowing for the kale to sit with the salad dressing with soften and tenderize the harshness of the raw kale.