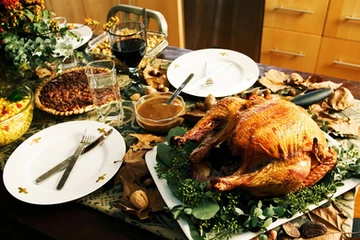 Thanksgiving is around the corner! We have so much to be thankful for here at the research center! For starters…our faithful followers, supporters, and donors who keep the research center thriving. As the weather cools off from the Texas heat we are definitely grateful for cooler weather which makes it possible for us to spend more time outside, enjoying nature, and being physically active.
Whether you are prepping Thanksgiving Dinner remind yourself to be aware of what you are putting into your body. Just because there is a fest for days does not mean you have to over indulge. Remember to make a healthy choices, there are definitely ways to make Thanksgiving healthy and tasty for everyone.
Remember to portion control your meal(s), and snack through out the day on healthy foods. Add in some fresh green beans, corn on the cob (rather then from a can), fresh can berry sauce. Make your feast colorful with seasonal fruits such as pumpkin, apples, cranberries, squash and pomegranates. When the stuffed (pun intended) sensation sets in, go outside and take a walk, play a game of flag football with the family.
Happy Thanksgiving from our family to yours.
#thanksgiving #healthyeating #healthyhabits #turkey #diet #November #portioncontrol #choices