This recipe is full of protein, healthy fats, and complex carbs! Plus we've got all of our food groups represented, and its only $5.31 per serving for a healthy, fancy family dinner!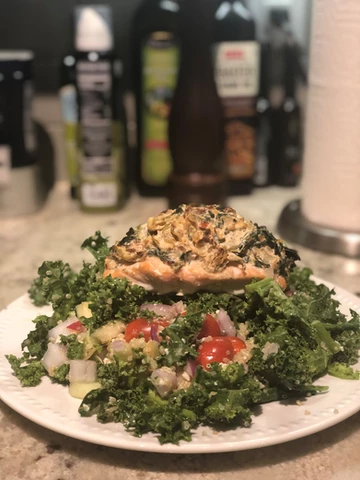 Ready in 30 min
Serves 6 ppl 536 calories Total per serving
Ingredients
● 6 4-oz portions of Salmon*
● 16 oz frozen chopped Spinach
● 7.5 oz jar of Marinated Artichokes
● 1 cup Fat-Free Greek Yogurt
● 3.7 oz can of Chipotles in Adobe
● 1 head Garlic
—————————————————–
● 1 bag of Kale
● 1 Lemon
● 1 pint of Cherry Tomatoes
● 1 Apple
● 1 Cucumber
● 1 Red Onion
● 8 oz Reduced-Fat Feta Cheese
● 2 TBSP Olive Oil
Preparation: Stuffed Salmon 1. Defrost spinach and squeeze out extra water before adding to a mixing bowl. Chop marinated artichokes (reserve the liquid) and add to spinach with the Non-Fat Greek Yogurt. Mix and season to taste with Salt, Pepper, and Chipotles in Adobe. 2. Cut a lengthwise slit down the middle of each serving of salmon leaving at least on inch of your fillet intact on the top and bottom and making sure not to cut all the way down to the skin. Fill each slit with your stuffing mixture. 3. Bake for 15-20 minutes until your salmon reaches your preferred doneness.
Preparation: Kale Salad 4. Cook Quinoa** per package instructions. Optionally, you can roast the Kale in the oven with the Salmon. Peel and dice cucumber and red onion (dice to whatever size you want to have in your salad). Half cherry tomatoes or leave whole (whichever you prefer or have time for). Add feta cheese. And mix with your kale and quinoa when done. 5. For the dressing: juice one lemon (or lime), you should have about ¼ of juice. Add 2 TBSP of Olive Oil, and the reserved artichoke marinade, Salt***, and Pepper to taste. Mix well and add to salad!
Tips ● *You can buy fresh or frozen Salmon but try and get pieces that are plump and will be good for stuffing. If getting your salmon from the seafood department, ask them to cut you the number of 4 oz portions of salmon that you need. H-E-B will always be willing to do this for you, and then you will know that all your fish is properly proportioned. ● **Start with this step so that it cooks while you get your salmon going! ● ***Remember that you're in control of how much sodium you add to the recipe! Be conscientious of your own health needs and adjust accordingly.
Budget $31.85 Total $5.31 Total per Serving All items are SNAP eligible
Nutrition 3 Protein (Salmon, Yogurt, Feta, Quinoa ~41g) 1 Whole Grain (Quinoa) 3 Vegetables (Kale, Cucumber, Spinach/Artichoke) 1 Fruit (Tomatoes) 1 1/2 Dairy (Yogurt + Feta)
Storage Meal will last in Fridge 3-4 days
#salmon #recipe #stuffedsalmon #spinachandartichoke #kale #quinoa #Loseweight #Weightloss