*New Series* Much like Julie Powell and Julia Child's cooking adventure Julie & Julia, I will be starting my own adventure cooking my way through Leanne Brown's Cookbook "Good and Cheap: Eat Well on $4/Day." She created the books as ways to get delicious and cheap recipes out to those that primarily get their food through SNAP assistance programs. A lot of recipes aren't designed with constrained budgets in mind, but Brown designed recipes with the goal of people being able to eat on $4 per day (which is roughly equivalent to the SNAP allowance of ~$1.39 per meal per person). Based out of Manhattan, prices are different than here in San Antonio, Tx. And, with a densely Hispanic/Latino population, our tastes are a little bit different. I want to take her recipes and transform them in Healthy, Texified but still Good and Cheap meals you can enjoy with nutrition information included (so you don't have to do the math or research)! So, without further ado… I present Berkley & Brown: Good & Cheap & Healthy. A recipe series that is sure to provide some seriously good eats! You can find Leanne Brown's cookbook free for download (in English and Spanish) on her website: https://www.leannebrown.com/
You can find the video and inspiration behind the changes made to the original recipe here:
Pasta with Eggplant & Tomato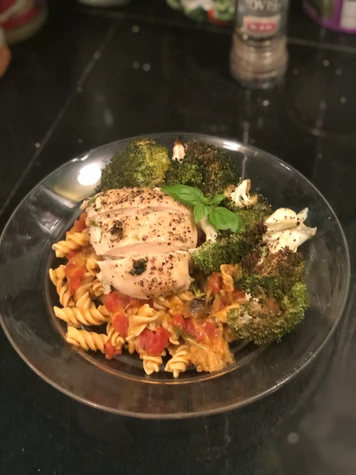 Ready in 35 min
Serves 4 ppl
512 calories per serving
Ingredients
● 2 large Chicken Breasts (4-4 oz servings)*
● 1 large Eggplant
● 1 crown of Broccoli
● 8 oz Chickpea Pasta (1 box)
● 1 can Diced Chipotle Tomatoes
● 4 cloves of Garlic
● 1 TBSP Olive Oil
● Salt & Pepper to taste
Preparation
Preheat oven to 425°F. Bring a large pot of salted water to a boil.
Pat 16 Oz (~2 Breasts) of Chicken down and sprinkle with salt and pepper. Add to sheet tray lined with parchment paper. Chop 1 crown of Broccoli into desired size and add to the sheet pan with the chicken. Spray with ~1 TBSP Spray Olive Oil Bake for 20-30 minutes at 425°F.
Stab your eggplant several times with a fork and place in a microwave safe bowl. Microwave on high for 10 minutes, flipping about halfway through. Chop the eggplant into 1 inch cubes and add into a pot with 1 TBSP of olive oil and add 4 chopped cloves of garlic (for a more garlic forward flavor, brown the garlic in your olive oil before adding the eggplant). Once golden brown, add your can of diced tomatoes. Simmer for 15-20 minutes on low heat (You can add chopped basil here).
Add 1 box of chickpea pasta to your boiling water and cook 1 minute less than package instructions. Once pasta is finished, drain, and add to your eggplant and tomato sauce.
Season with salt and pepper to taste. Split into 4 equal servings and top with ¼ of your roasted broccoli and 4 Oz of chicken breast (about half of one breast). Enjoy!
Tips
● *Want a fancier version of this meal? Swap out your chicken breast for Salmon and sprinkle some chopped Basil over the top!
● Terminology: Garnish is just a fancy word for something sprinkled over the top at the end of preparation to make things look fancier.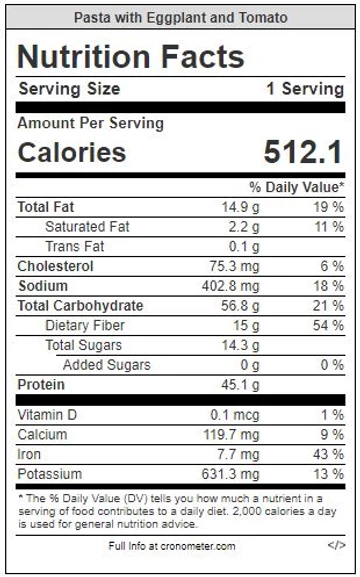 Budget
$9.84 Total
$2.46 Total per Serving
All items are SNAP eligible
Nutrition
2 Lean Protein
1 Whole Grain
2 Vegetables
1 Fruit
0 Dairy
Storage
Meal will last
in Fridge
3-4 days