*New Series* Much like Julie Powell and Julia Child's cooking adventure Julie & Julia, I will be starting my own adventure cooking my way through Leanne Brown's Cookbook "Good and Cheap: Eat Well on $4/Day." She created the books as ways to get delicious and cheap recipes out to those that primarily get their food through SNAP assistance programs. A lot of recipes aren't designed with constrained budgets in mind, but Brown designed recipes with the goal of people being able to eat on $4 per day (which is roughly equivalent to the SNAP allowance of ~$1.39 per meal per person). Based out of Manhattan, prices are different than here in San Antonio, Tx. And, with a densely Hispanic/Latino population, our tastes are a little bit different. I want to take her recipes and transform them in Healthy, Texified but still Good and Cheap meals you can enjoy with nutrition information included (so you don't have to do the math or research)! So, without further ado… I present Berkley & Brown: Good and Cheap and Healthy. A recipe series that is sure to provide some seriously good eats!
You can find Leanne Brown's cookbook free for download (in English and Spanish) on her website: https://www.leannebrown.com/
Savory Jalapeño Cheddar Oats
Ready in 10 min
Serves 2 ppl
420 calories per serving
Ingredients
● 1 cup Old Fashioned Oats
● 2 cups Water
● 4 Eggs
● 14 Cheddar and Monterey Jack Cheese cubes (or 1/2 cup shredded)
● 1 Jalapeño
● Olive Oil Spray
● Salt & Pepper to taste
Preparation
Chop Jalapeño and add to pot (that you will later add your oatmeal too) with a spritz of oil and lightly brown. Once browned, add 2 cups of water, and bring to a boil. Add 1 cup of oats and cook (uncovered) for about 5 -10 minutes.
Spritz a frying pan with oil and crack in the 4 eggs; cook until desired doneness. * (We like yolks runny but the whites cooked. Poached eggs would also work well too.)
Just after the oats have absorbed all the water, add 14 cubes of Cheddar & Jalapeno Jack cheese and salt, and pepper (to taste). Stir until cheese melts into your oats.
Split evenly into 2 bowls and top each bowl of Savory Jalapeño Cheddar Oats with two eggs. Enjoy!
Tips
● Having a savory breakfast, instead of sugary oatmeal is a great way to curb your sweet tooth throughout the day!
● *The original recipe calls for one egg. However, if this is all you are eating for breakfast, I would up your protein and calorie count by including 2 eggs per serving to keep you fuller longer.
● If you're not a fan of spicy breakfasts, cut down the amount of Jalapeño you use or sub in 3 chopped Scallions (this will not change the calorie count but will add about $0.15 to your total cost). You could also use red pepper flakes or whatever savory seasoning you like!
Budget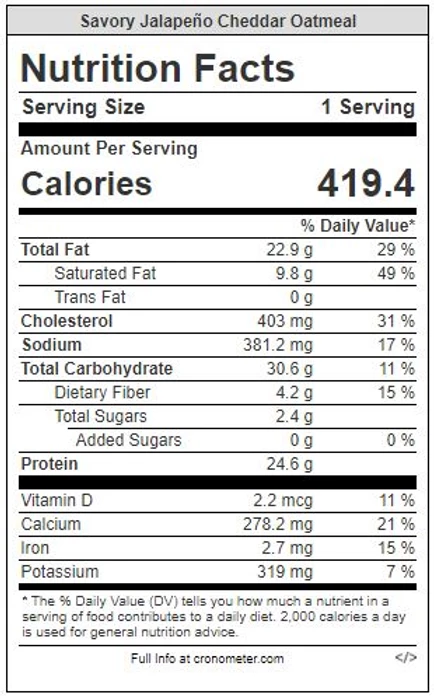 $1.30 Total
$0.65 Total per Serving
All items are SNAP eligible
Nutrition
2 Lean Protein
1 Whole Grain
0 Vegetables
0 Fruit
0 Dairy
Storage
Meal will last
in Fridge
3-4 days,
but is best fresh
Leanne Brown's
Cookbook
Good & Cheap
Can be found
Free online